Types of computers
If you're choosing a new computer, there are a few different types to consider. All computers – including touchscreen tablets – will let you browse the web and email. The most important consideration is how and where you want to use your new device.  We explain the main types of computers in our guide, below: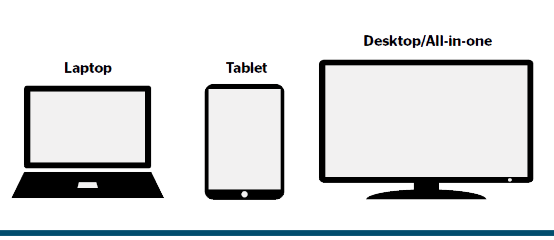 Laptops With a screen and keyboard all connected, laptops can be a good choice if you want to take your computer from room to room, or out with you. Laptops range from small models with 10-inch screens that are very portable, to 17-inch models with big screens and keyboards. Some are adaptable – letting you remove the screen to use as a tablet.
Tablets use touchscreens rather than keyboards. They're great for day-to-day internet browsing and emailing, but not ideal
for prolonged typing.
Desktop computers come in separate parts: a tower containing the workings of the computer, a separate screen, plus
a keyboard and mouse. They can be a good choice if you want a large keyboard and a screen you can sit upright in front of.
Mini PC's are a type of desktop computer, but all the workings live inside a much smaller housing and can be attached to the screen itself – there's no large tower cluttering up your desktop so this makes them an excellent choice if your tight for space.
See more about Mini PC's Here.
At Scanstation we believe that It's important to buy the right computer for your needs, we have found many peoples devices are just not suitable. That's why we offer a wide selection of new tablets, laptops and desktops.  We will ensure you leave happy and satisfied with your new device.
Come in store to discus your computing needs